Shipping Information
Wine Library can ship accessories and non alcohol items to any state. Wine shipments are only allowed to select states.
Estimated Delivery Time
Please note, with extreme heat during the summer months and extreme cold during the winter months, we may hold shipments to your area here in our warehouse. If you feel this may be a problem because of a time sensitive package, please call our order department at 888-980-WINE to discuss other options.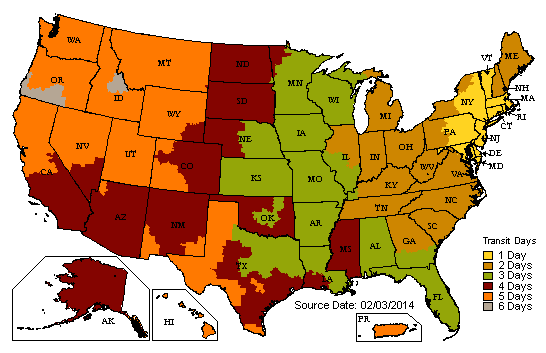 Check the map to calculate the estimated number of business days (Monday-Friday) it will take for your package to arrive.
Please note, due to increased volume, delivery orders can take up to 3-5 days for processing. Pick up orders are generally ready in 1-2 days. Faster shipping options may be available. Please call our order department at (888) 980-WINE (9463) for more information. All packages are packed in our styrofoam or pulp containers to ensure proper delivery. We do everything possible on our end to protect our wine shipments from temperature-related damage. If you are concerned about the weather in your area, you may request a specific shipping date or you may choose a faster shipping method. You will receive an email containing tracking information once your order is boxed and ready for shipment. Please note, these tracking numbers will not be active until they are scanned by the driver. (For example, if you have an order scheduled to ship on a Monday, we may box it on a Friday and send you the tracking info. However, the tracking info will not be valid until the driver picks it up on Monday.)
Express shipments (i.e. 2-day air and/or overnight)
Please note that any order placed for 2 Day Air or Overnight delivery will ship the next business day (Mon-Fri). (Assuming we have the ordered wine in stock.)
Insurance
Wine Library.com automatically adds insurance to each order placed online. This covers you from any package lost or damaged in transit except for deliveries to a hotel where you are staying. If you wish to waive the insurance, you may do so by un-checking the box during the checkout process, however, this waives all responsibility from Wine Library.com.
Shipping To A Hotel
Shipping to a hotel where you are staying, or going to be staying is not permitted. Packages are often lost or misplaced and not delivered to guests in a timely fashion.
Signature Policy
You must be 21 years of age or older to purchase wine from Wine Library.com. All packages sent out by Wine Library.com require a signature upon delivery. It is highly recommended that you provide us with a business shipping address for best service. Customer comments on their order such as "Please leave on back porch" or "Please leave at front door" will be ignored! We will not be able to refund any shipping charges if your package comes back to us because there was no adult to sign for the wine!
Returns
Wine Library.com is committed to 110% customer satisfaction! If there is any problem with your order, we want to hear about it. Please note, any problems with the receipt of your package must be called in to us within 30 days of the delivery date! If you suspect the bottle is bad, please just put the cork back in the wine leaving the contents of the wine in the bottle. We can't take back any empty bottles. If you find any errors regarding type of wine and vintage, please call our order department (888) 980-WINE (9463) or send an e-mail to help@winelibrary.com right away. Wine Library.com will arrange to have the package picked up and returned to us right away for inspection. Once the package is returned to us, we will inspect the contents and then send out a replacement package to you. For this reason, it is vital that you let us know of any error immediatly to ensure the fastest delivery of your new shipment. If you wish to return your wine for any other reason you may do so. Please re-pack the wine and send it to "The Wine Library, Attn: Returns, 586 Morris Ave, Springfield, NJ 07081". Please include a copy of the original sales receipt with the package. Please note: All returns are subject to a 25% restocking fee.
Legal Notice
Title to, and ownership of, all wine passes from Wine Library to the purchaser in the State of New Jersey and the purchaser takes all responsibility for the shipping of it from New Jersey to his/her home state. By arranging for transportation of the wine via common carrier, Wine Library is providing a service to, and acting on behalf of the purchaser. You will be billed for this service. By utilizing this service from Wine Library, the purchaser is representing that he/she is acting in a fashion compliant with his/her local and state laws regarding the purchase, transportation and delivery of wine. The purchaser represents that he/she has obtained any required permission, paid any required fees, is working through properly licensed intermediaries where required, is legally entitled to take possession of wine and is legally entitled to take quantities ordered and once again authorizes that he/she is 21 years of age.