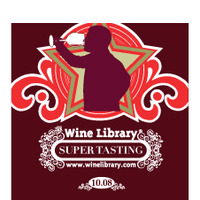 Wine Library's 2008 Super Tasting -- October 13 & 14
Please note, Monday night October 13th has now SOLD OUT! Tuesday tickets are still available but going FAST... act now!
The Premier Wine Tasting Event of the Year!
Super Tasting Tickets On Sale Now! It's time once again for our biggest Wine EVENT of the year. Our Super Tasting is now on sale!
Get your tickets now and taste over 700 of the finest wines in the world... all at once!
*Please note, we have already had a tremendous amount of calls for these tickets and are expecting another rapid sell out.*
Don't hesitate this year - tickets WILL sell out and you won't want to miss the extravagant wine tasting experience that is Wine Library's Super Tasting!
Event Details
Wine Library's 2008 Super Tasting!
Monday and Tuesday, October 13th and 14th, 2008 - 5:30-9:30 P.M. (when calling, please specify which date you would like to attend) Both dates will feature the same wine selection!
The Manor
111 Prospect Ave in West Orange, NJ
Please call our Order department for tickets - 973-376-0005 or 888-980-WINE or click the links below to order!
*Please note, A ticket will be required for this event. This sells out every year!*
Tickets are $95 - All profits from the Monday night tasting benefit the Sharing Village Cancer Survivor Groups:
sharingvillage.org
and all profits from the Tuesday night tasting benefit Family & Children's Services:
facsnj.org
.
Once again we've assembled a stunning selection of highly rated wines and stunning sleepers from around the world this year, as we will feature over 700 wines! Some of the finest wines from California, Australia, France, Italy, Spain... Hundreds and hundreds of highly rated wines from Robert Parker,
Wine Spectator
, Stephen Tanzer, and other top name critics will be available to try! This is the evening no wine lover can miss!!
In the elegant setting of The Manor, taste hundreds of wines and feast on an outstanding array of fine foods (save room for dessert!).
Tickets will be mailed to your home after purchase. Remember, this event WILL SELL OUT, get your tickets today!